The Monument to Man
Bulent Rauf returned from Turkey barely a month before he died. After a short spell in the John Radcliffe Hospital in Oxford he was brought back to Chisholme House to spend whatever days were left to him with his wife and friends, and in his own room. He died at 12.37 am on September 5th 1987.
The following morning there arrived in the post the planning permission to build a monument on the spot where he wished to be buried. He had explained to architect Richard Twinch earlier that year that he had in mind a Monument to Man, and sketched the idea on the back of an envelope. Before he left for Turkey he had given his approval for Richard's design. It was to be on the highest point of the Chisholme Estate, overlooking the House and gardens, with a view over the moors to the south. Bulent had traced out the exact spot with his walking stick the previous year, and it was beneath this Monument that he wished to be buried.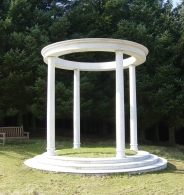 The burial took place on Monday 7th September. The Monument was built in 1988-9 by friends of Bulent, all students of the Beshara School. It consists of four columns standing on the topmost of three rings of steps. A simple circular ring surmounts the columns. The earth below is thus open to the sky in order to receive Rahmet, God's Mercy that pours from above. On the topmost step, between the columns is carved:
They are from Him and to Him they return
The Monument is neither a tomb nor a grave. It is dedicated to the reality of Man which does not die, which is in eternity and forever one with the One, and from which spiritual help and direction flows to all people everywhere.